WELCOME TO OUR WEBSITE!
OFFICERS
PRESIDENT: RUBEN PEREZ
1ST VICE: ED STITLER
2ND VICE: CARLOS MUJICA
SECRETARY: CHERYL VAN SYCKLE
TREASURER: RUBEN VILLAFRANCA
CHAPLAIN: MIKE GIGLIO
BOARD MEMBERS
FRANCIS "MIKE" GIGLIO / LEROY TREVINO / ROBERT B. HILL
PLUS ALL OFFICERS
STATE DELEGATES
WM DOUG VAN SYCKLE / DAN MEDRANO / ROBERT B. HILL / RUBEN PEREZ
NATIONAL DELEGATES
WM DOUG VAN SYCKLE / CHERYL VAN SYCKLE / DAN MEDRANO / ROBERT B. HILL
NOMINATING COMMITTEE
WM DOUG VAN SYCKLE / RICARDO ESQUIVEL / MANUEL TREVINO
COMMITTEE APPOINTMENTS
COMMUNITY SERVICE = FRANCIS "MIKE" GIGLIO
CONSTITUTION = ROBERT B. HILL
ETABO = MANUEL TREVINO
FINANCE = RUBEN VILLAFRANCA
GOVERNMENT AFFAIRS = MANUEL TREVINO
MEMBERSHIP = LEROY TREVINO
MINORITY AFFAIRS = JOHN RODRIGUEZ
PUBLIC RELATIONS = JOHN RODRIGUEZ
VETERANS AFFAIRS = WM DOUGLAS VAN SYCKLE
VETERAN'S BENEFITS = WM DOUGLAS VAN SYCKLE
WOMEN VETERANS = CHERYL VAN SYCKLE
POW-MIA = TOM BALLINGER
AGENT ORANGE = CHERYL VAN SYCKLE
VETERANS INCARCERATED = TOM BALLINGER
VETERANS HEALTH CARE = CHERYL VAN SYCKLE
FIESTA COMMISSION = DAN MEDRANO
________________________________________________________________________________
Any Veteran can join the American Legion.
Any Veteran of a foreign war can join the VFW.
Only one group of Veterans can join the unique Brotherhood of
the Vietnam Veterans of America.
WHAT WE DO
Alamo Chapter 366 was chartered in 1988 and it is the only chartered chapter in San Antonio. Our current membership is over 142 members comprised of Soldiers, Marines, Sailors, and Airmen who served in the US military between 1961 and 1975 during the Vietnam era.
Applications for membership are available for download at the national website at: http://vva.org/Forms/FORMS09/VVA%20APPLICATION%20FOR%20MEMBERSHIP.pdf.
When completing the application please ensure that you indicate "Chapter 366" as the chapter you wish to join. Your dues, application, and a copy of your DD Form 214 must be sent to National. Once accepted, your name will be added to the rolls of Chapter 366.
Our Chapter meets on the 2nd Saturday of each month, at VFW Post 8541, located at 2222 Austin Hwy, San Antonio, at 1:00 P M. On occasion we may need to change our venue and those changes will be posted on the website.
The Chapter is a member of the Fiesta San Antonio Commission as a Participating Member Organization (PMO). The Fiesta San Antonio Commission has 100 PMOs. We participate in Fiesta functions such as Pilgrimage to the Alamo, Media Day, Fiesta Opening Day and functions of other PMO
We are required to conduct one Fiesta sanctioned activity. Each year, on the last Sunday of Fiesta, we conduct the All Veterans Memorial Service at the Veterans Plaza in downtown San Antonio. We have also participated in the vanguard with the Fiesta Flambeau and the Battle of Flowers Parades.
The Chapter donates up to $100.00 per month to prepare food and provide a home cooked meal for the wounded warriors and their families at the Warrior and Family Support Center at Fort Sam Houston, Texas.
We have established a Scholarship Fund and are in the process of establishing guidelines to start giving out scholarships to worthy students.
We participate in patriotic parades in San Antonio and the surrounding communities (Poteet, Seguin, Comfort, Garden Ridge, etc.).
You will find that war stories are not part of the meeting agendas. Some Brothers stay to socialize with others and drink beer, sodas, or water.
I hope you find the information useful and decide to join the Chapter.
_______________________________________________________
YOU ARE WELCOMED AT THE NEXT MEETING-DECIDE TO JOIN
MEETING LOCATION
VFW POST 8541
2222 AUSTIN HWY
SAN ANTONIO, TX 78218
THE POST SITS OFF THE ROAD AND MAY BE DIFFICULT TO SEE BUT IS LOCATED DIRECTLY ACROSS FROM THE SAN ANTONIO MOBILE HOMES LOT
______________________________________
THE CHAPTER RECENTLY RECEIVED A
CERTIFICATE OF APPRECIATION FROM
THE WOUNDED WARRIOR FAMILY SUPPORT CENTER
IN APPRECIATION OF OUR SUPPORT BY PROVIDED A
HOME COOKED MEAL ON A MONTHLY BASIS TO THE
WOUNDED WARRIORS AND THEIR FAMILIES.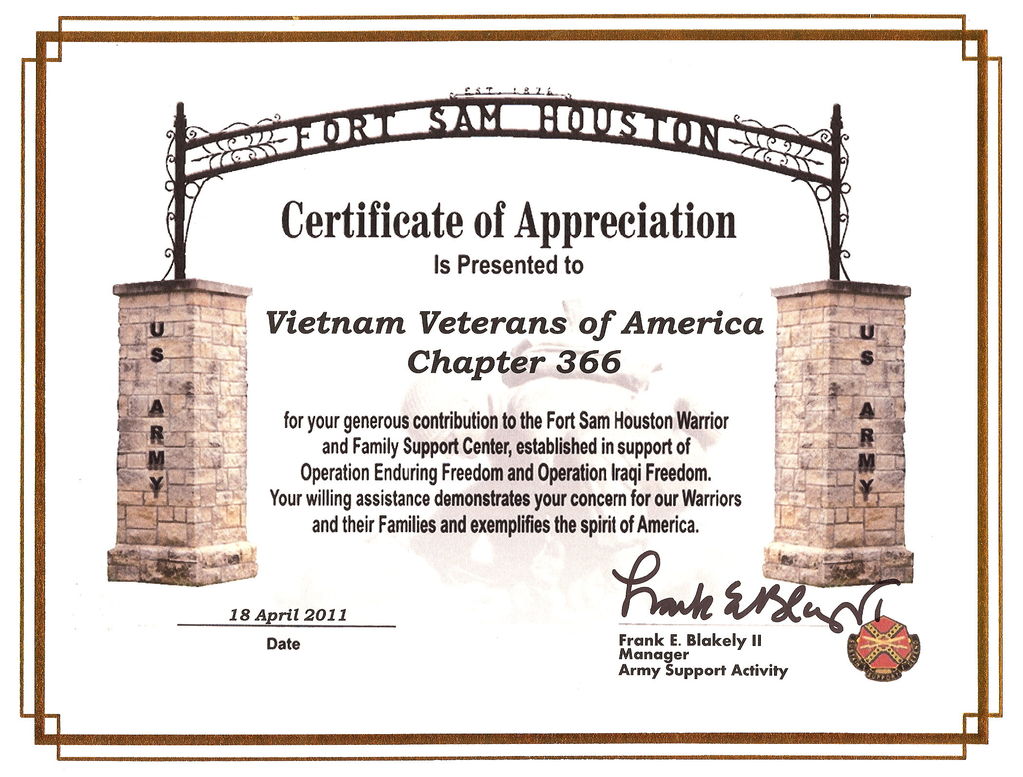 -------------------------------------------------
SIGNIFICANT EVENTS
The print below created by artist Castanie and provided by Texas State VVA for presentation as a small token of our gratitude to local families and loved ones of those brave young warriors that have made "The Ultimate Sacrifice" in Afghanistan and Iraq. If you know of a spouse or family that would like a copy of this print please contact me via email: csmgonzalez@gmail.com
"NEVER AGAIN WILL ONE GENERATION OF VETERANS ABANDON ANOTHER"
__________________________________________
"A veteran – whether active duty, retired, national guard, or reserve – is someone who, at one point in his or her life, wrote a blank check made payable to The United States of America, for an amount of up to and including their life."
(Author unknown)
____________________________________________________________
THIS SITE IS CONTINOUSLY UNDER CONSTRUCTION PLEASE CHECK BACK PERIODICALLY.
PLEASE CHECK THE MONTHLY MINUTES FOR CHANGES TO MEETING DATES.
WE ARE NOW ON FACEBOOK: FACEBOOK.COM/ALAMOCHAPTER336VVA
DON'T FORGET TO SIGN OUR GUESTBOOK
ALL MESSAGES ASSOCIATED WITH COMMERCIAL CONTENT WILL BE DELETED.
IN OUR GUESTBOOK YOU CAN PAY A SMALL TRIBUTE TO A LOVED ONE, FALLEN COMRADE OR A MESSAGE FOR SOMEONE THAT YOU'RE LOOKING FOR. ALL MESSAGES ARE REVIEWED FOR PROPER CONTENT BEFORE POSTING. MESSAGES THAT CONTAIN UNFAVORABLE COMMENTS OR FOUL LANGUAGE WILL BE DELETED.