ALL VETERANS CEREMONY SERVICES
MAY 29, 2018
AT 1300 HRS
LOCATION ---- MEMORIAL PARK IN FROM OF THE TOBIN CENTER.
.
VIETNAM VETERANS OF AMERICAN
ALAMO CHAPTER #366, MEMORIAL BENCH
AT FT. SAM HOUSTON NATIONAL CEMETERY IN SECTION #92.

---
MEMBER FRANCIS "MIKE" GIGLIO WILL BE PRESENTED "THE CHAPEL OF FOUR CHAPLAINS" / "THE LEGION OF HONOR AWARD" ON FEBRUARY 4, 2017.
IT IS AWARDED FOR OUTSTANDING, SACRIFICIAL VOLUNTEER SERVICE TO ONES'S COMMUNITY AND FELLOW HUMAN BEINGS WITHOUT REGARD FOR FAITH OR RACE IN KEEPING WITH THE SPIRIT OF SACRIFICE.
THIS AWARD IS GIVEN TO THE INDIVIDUALS FOR THEIR SERVICE TO THE COMMUNITY, PLACES OF WORSHIP, AND CIVIL, FRATERNAL OR VETERANS ORGANIZATIONS. IN ALL CASES, THE SELFLESS SERVICE GOES ABOVE AND BEYOND THAT WHICH IS REQUIRED BY THE NOMINEE'S PROFESSI0NAL OR ORGANIZATIONAL POSITION.
_________________________________________________________________________________________
LOCAL NEWS
2014 Fiesta Medal sale at Alamo Plaza during FIESTA -FIESTA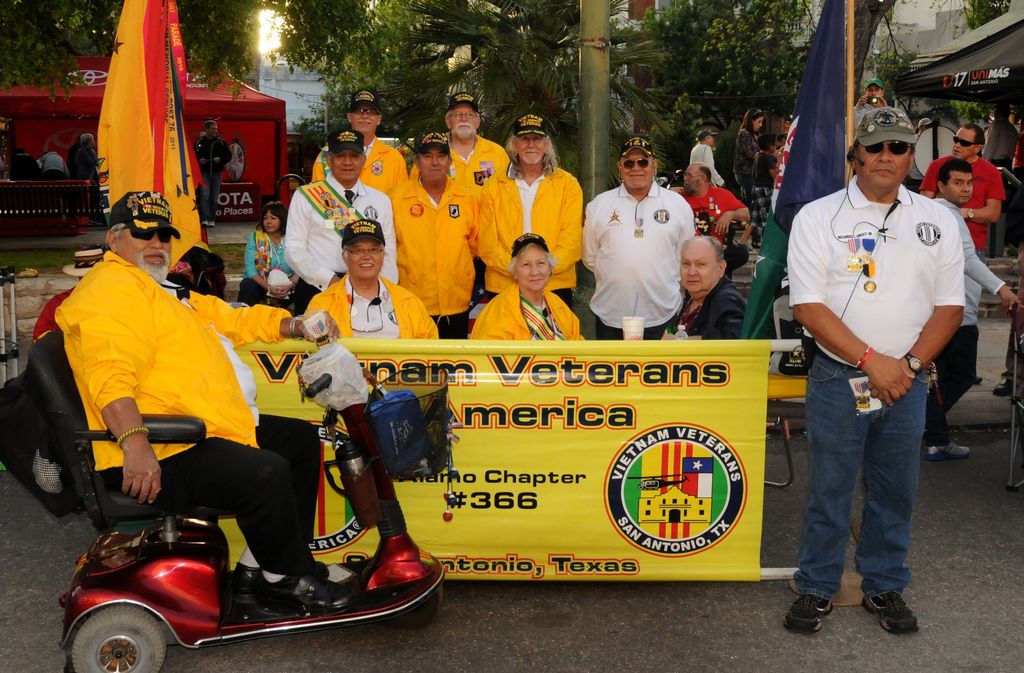 2018FIESTA SAN ANTONIO
WE WILL BE MARCHING WITH THE SILVER WINGS IN THE FIESTA FLAMBEAU PARADE THIS YEAR. APRIL 28, 2018

THE 2018 FIESTA MEDALS ARE AVAILABLE AT THE MONTHLY MEETING.

WE ARE LOOKING FORWARD TO THE UPCOMING 2018 FIESTA EVENTS
LOOK FOR OUR NEW 2018 FIESTA MEDAL