MEDAL OF HONOR RECIPENT
MARCH 18, 2014
ARMY SPC. SANTIAGO EREVIA
SANTIAGO EREVIA OF SAN ANTONIO, TEXAS PASSED AWAY MARCH 22, 2016 @ AGE 70
THE MEDAL OF HONOR RECIPENT , A VIETNAM VETERAN DESCRIBED AS "A SILENT HERO" OF THE VIETNAM WAR, DIED ON TUESDAY 3/22/2016. HE WAS A VERY, VERY MODEST, VERY DECENT PERSON. AN "AMERICAN HERO FROM OUR COMMUNITY AND HERO TO OUR COUNTRY" WHO "EPITOMIZED SELFLESS SERVICE AND BRAVERY"
MEDAL OF HONOR CITATIONS

MILTON ARTHUR LEE

COMPANY B, 2d BATTALION, 502d INFANTRY, 1st BRIGADE, 101st AIRBORNE DIVISION (AIRMOBILE)
NEAR phu Thua Thien PROVINCE, REPUBLIC OF VIETNAM

26 APRIL 1968

ENTERED THE SERVICE IN SAN ANTONIO, TEXAS
BORN IN SHREVEPORT, LA
28 FEBRUARY 1949

FOR CONSPICUOUS GALLANTRY AND INTREPIDITY IN ACTION AT THE RICK OF HIS LIFE ABOVE AND BEYOND THE CALL OF DUTY. PFC LEE DISTINGUISHED HIMSELF NEAR THE CITY OF phu Bai IN THE PROVINCE OF Thua Thien. PFC LEE WAS SERVING AS THE RADIO TELEPHONE OPERATIOR WITH THE 3d PLATOON, COMPANY B. AS LEAD ELEMENT FOR THE COMPANY, THE 3d PLATOON RECEIVED INTENSE SUPRISE HOSTILE FIRE FROM A FORCE OF NORTH VIETNAMESE ARMY REGULARS IN WELL-CONCEALED BUNKERS. WITH 50 PERCENT CASUALTIES, THE PLATOON MANEUVERED TO A POSTION OF COVER TO TREAT THE WOUNDED AND REORGANIZE, WHILE PFC LEE MOVED THROUGH THE HEAY ENEMY FIRE GIVING LIFESAVING FIRST AI TO HIS WOUNED COMRADES. DURING THE SUBSEQUENT ASSAULT ON THE ENEMY DEFENSIVE POSITIONS, PFC LEE CONTINUOUSLY KEPT CLOSE RADIO CONTACT WITH THE COPANY COMMANDER, RELAYING PRECISE AND UNDERSTANDABLE ORDER TO HIS PLATOON LEADER. WHILE ADVANCING WITH FRONT RANK TOWARD THE OBJECTIVE, PFC LEE OBSERVED 4 NORTH VIETNAMESE SOLDIERS WITH AUTOMATIC WEAPONS AND A ROCKET LAUNDHER LYING IN WAIT FOR THE LEAD ELEMENT OF THE PLATOON. AS THE ELEMENT MOVED FORWARD, UNAWARE OF CONCEALED DANGER, PFC LEE IMMEDIATEL;Y AND WITH UTTER DISREGARD OF HIS OWN PERSONAL SAFETY,, PASSED HIS RADIO TO ANOTHER SOLDIER AND CHARGED THROUGH THE MURDEROUS FIRE. WITHOUT HESITATION HE CONTINUED HIS ASSAULT, OVERRUNNING THE ENEMY POSITION, KILLING ALL OCCUPANTS AND CAPTURING 4 AUTOMATIC WEAP;ONS AND ROCKET LAUNCHER. PFC LEE CONTINUE HIS 1-MAN ASSAULT ON THE SECOND POSITION THROUGH A HEAVY BARRAGE OF ENEMY AUTOMATIC WEAPONS FIRE. GREVOUSLY WOUNDED, HE CONTINUED TO PRESS THE ATTACK, CRAWLING FORWARD INTO A FIRING POSITION AND DELIVERING ACCURATE COVERING FIRE TO ENABLE HIS PLATOON TO MANEUVER AND DESTROY THE POSTION. NOT UNTIL THE POSITION WAS OVERRUN DID PFC LEE FALTER IN HIS STEAY VOLUME OF FIRE AND SCCUMB TO HIS WOUNDS. PFC LEE'S HEROIC ACTIONS SAVED THE LIVES OF THE LED ELEMENT AND WERE INSTRUMENTAL IN DESTRUCTION OF THE KEY POSITION OF THE ENEMY DEFENSE. PFC. LEE'S GALLANTRY AT THE RISK OF LIFE ABOVE AND BEYOND THE CALL OF DUTY ARE IN KEEPING WITH THE HIGHEST TRADITIONS OF THE MILITARY SERVIVE AND REFLECT GREAT CREDIT ON HIMSELF, THE 502d INFANTRY, AND THE U.S. ARMY.
PFC MILTON ARTHUR LEE IN BURIED AT FT. SAN HOUSTON NATIONAL CEMETERY IN SAN ANTONIO.


REMEMBRANCE CEREMONY
Vietnam Veteran John A. Rodriguez (USMC) cordially invites everyone to the
7th Remembrance Ceremony in honor of Korean War Medal of Honor Recipient
JOHN EDWARD KILMER
HOSPITAL CORPSMAN
16 AUGUST 1930 – 13 AUGUST 1952
Location: San Jose Burial Park (North Entrance), 8235 Mission Road, San Antonio, TX 78214, Phone: 210-923-0272. Map is available at the bottom of the page.
BIOGRAPHYIn addition to the Medal of honor, his decorations included the Purple Heart, the Korean Service Medal, and the United Nations Service Medal.
Hospitalman Third Class John "Jackie" Kilmer quit high school at seventeen to enlist in the Navy on 16 August 1947. His greatest passions, medicine and helping other people, made him decide to sign up for the Hospital Corps. He enlisted as an Apprentice Seaman, and was attended Hospital Corps School, San Diego, California. After Graduation in April 1948, he advanced in rate to Hospital Apprentice, and then to Hospitalman on 1 September 1950.
Kilmer was assigned to the hospital ship U.S.S. Repose when war broke out in Korea. He gained a great deal of practical medical experience during his service on that ship. Kilmer at first hoped this experience would help him to find a civilian job, but realized there would be more opportunities in medical treatment for him in the Navy. It did not take him long to decide to rejoin when his enlistment expired in August 1951.
After running a foul of a superior, Kilmer chose to be transferred to the Fleet Marine Force. After completing instruction at the Field Medical School at Camp Pendleton, California, he joined the 3d Battalion, 7th Marines, Fleet Marine Forces. His training and practical experience had made him into an excellent corpsman, and the Marines respected him for that. He always did a little extra for his patients to make sure they got the best care.
On 12 August 1952, Kilmer took part in the attack on "Bunker Hill" in Korea. At first there were not many casualties because the Chinese were surprised. Expecting a counterattack, the Marines had dug themselves in earlier that day, hoping that enemy artillery and mortar shells would not hit them. But, just after midnight, 13 August, all hell broke loose. Kilmer soon heard the first Marine's cry for medical help. He went to work quickly, repeatedly exposing himself to enemy fire to reach wounded Marines and render aid. He carried many away to safety before spotting a seriously wounded Marine lying in the open field. When Kilmer started crawling towards him, a sergeant tried to stop him, shouting that he could not go out there because he would certainly die. But Kilmer was too stubborn to be stopped a Marine needed his help and counted on him. Wounded by mortar fragments when he was only halfway, Kilmer still kept on crawling until he reached the wounded man. Then the attack intensified, and a heavy barrage of enemy fire shattered the ground around Kilmer and the Marine. Kilmer shielded his patient with his body, thus saving the man's life, but was himself mortally wounded.
On 18 June 1953, Navy Secretary Robert B. Anderson posthumously awarded Kilmer the Medal of Honor, which was presented to his mother, Lois Kilmer.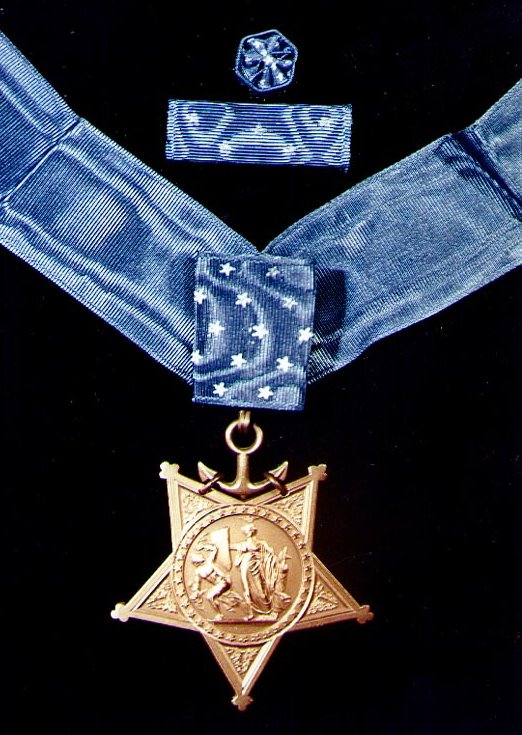 CITATION
For conspicuous gallantry and intrepidity at the risk of his life above and beyond the call of duty in action against enemy aggressor forces on 13 August 1952. With his company engaged in defending a vitally important hill position well forward of the main line of resistance during an assault by large concentrations of hostile-troops, Hospitalman Kilmer repeatedly braved intense enemy mortar, artillery, and sniper fire to move from one position to another, administering aid -to the wounded and expediting their evacuation. Painfully wounded himself when struck by mortar fragments while moving to the aid of a casualty, he persisted in his efforts and inched his way to the side of a stricken Marine through a hail of enemy shells falling around him. Undaunted by the devastating hostile fire, he skillfully administered first aid to his comrade and, as another mounting barrage of enemy f ire shattered the immediate area, unhesitatingly shielded the wounded man with his body. Mortally wounded by flying shrapnel while carrying out this heroic action, Hospitalman Kilmer, by his great personal valor and gallant spirit of self-sacrifice in saving the life of a comrade, served to inspire all who observed him. By his exceptional fortitude, determined efforts, and unyielding devotion to duty, Hospitalman Kilmer reflected great credit upon himself and upheld the highest traditions of the United States Naval Service. He gallantly gave his life for another.
________________________________________________________________________________________________
MAP TO SAN JOSE BURIAL PARK